About axel_dunor
Name: Pierre Lescaudron

Pierre Lescaudron (M.Sc., MBA) pursued a career in executive management, consulting and post-graduate teaching in high tech fields.
He then became an editor and writer for SOTT.net, fulfilling his dream of researching science, technology and history.
Pierre is a certified Eiriu Eolas instructor and the author of "Earth Changes and the Human Cosmic Connection".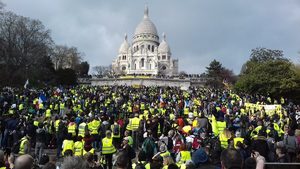 Acte XIX: Sacré-Coeur, Paris, 23 March 2019
Confucius has no interest in falsehood; he did not pretend to be prophet; he claimed no inspiration; he taught no new religion; he used no delusions; flattered not the emperor under whom he lived.
- Voltaire
Recent Comments
Trump and no one else has "authority" to allege that the Golan belongs to Israel. They stole it from Syria years ago, just as they stole the West...
---
This is not a very nice thing to do, but unfortunately I can empathize with the poor chap. I mean after all the hard work that he's put in and not...
---
Well is the war on terror suppose to end with us all holding hands singing kumbaya? May peace be upon everyone not holding extremist views
---
Of course there's a capacity for storage in the brain. But to say that there's only a small section of it that's used for storage seems little…...
---
If true trump needs to pull his head in on foreign policy it certainly doesn't look like what he was stating during his run for pres in regards to...