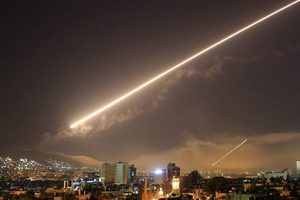 Syrian air defense systems protecting Damascus - the oldest continuously-inhabited city on Earth - from Western airstrikes, 14 April 2018
In the Truth there is no news, and in the News there is no truth
- Popular Russian saying under Soviet Communism
Recent Comments
Prediction: When Lockheed Martin has finished fleecing the US taxpayer for this program, what we will end up with is a missile which will cost...
---
This article from Russia Insider fails to point out one thing: On 9/10/2001, Donald Rumsfeld held a press conference in which he revealed that the...
---
The British and their children - the Canadians, Americans, Australians, and New Zealanders - are a mongrel race of liars, hypocrites, genocidal...
---
But criticizing these actions is "anti-Semitic." Meaning anti-Jewish. That means these actions are just HOW JEWS ARE. They cannot help themselves....
---
Goodness me, Britain must be a very rich country. So much money to spend looking for Russian spies under every hedgerow. And all those police and...