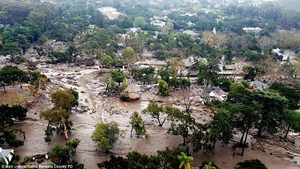 9 January 2018: Mudflows cause at least 20 deaths in Montecito, California
Each of us tend to think we see things as they are, that we are objective. But this is not the case. We see the world, not as it is, but as we are - or as we are conditioned to see it.
- Stephen. R. Covey
Recent Comments
"Two possibilities exist: Either we are alone in the Universe or we are not. Both are equally terrifying." - Arthur C. Clarke
---
@Fluffy...Yes but I think he prefers the taste of Zionist testes...Here's a link to some of his higher human attributes.... [Link]
---
Affirmative Action has proved to be the exact opposite of what it says it is. What African-American-black-and-brown-pride-folk-persons-of-color...
---
Oh-ho-ho!!! A Catherine Deneuve bandwagon jumper!!! I tell you, this whole #MeToo bollocks has less to do with Left/Right, more to do with the...
---
One thing is clear. It is better to looks like in Auschwitz than to be like pig. Most balanced diet is 1/3 protein, 1/3 fat, 1/3 carbs. With age...