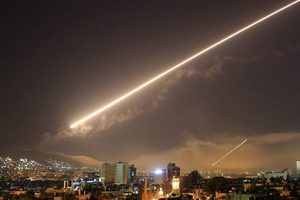 Syrian air defense systems protecting Damascus - the oldest continuously-inhabited city on Earth - from Western airstrikes, 14 April 2018
In the Truth there is no news, and in the News there is no truth
- Popular Russian saying under Soviet Communism
Recent Comments
That's all very nice, but I clearly see sprayer tracks in the field. What are they drenching the crop with, and why? Have a nice day.
---
Lord, I love trees - as I've said before, I type from beneath a more than 250 year old Sand Live Oak. (quercus geminata) , huge. R.C.
---
Is the reason why they didn't name Trump because a sitting potus cannot be sued? Just more drama from the party of drama queens. No collusion to...
---
Sub sole nihil novi est (There is nothing new under the sun. Ecclesiastes.) R.C. asks, doth supra seem seem familiar? If not, mend your learning....
---
Lord above, how much more of the taxpayers money are they going to extract from a blatant propaganda campaign. All the police, special forces,...