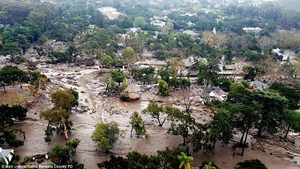 9 January 2018: Mudflows cause at least 20 deaths in Montecito, California
Each of us tend to think we see things as they are, that we are objective. But this is not the case. We see the world, not as it is, but as we are - or as we are conditioned to see it.
- Stephen. R. Covey
Recent Comments
That's where you end up if you're a useless wanker who's s-c-a-r-e-d of g-u-r-r-r-r-r-r-r-l-s.
---
At least there will be a new job for males (not that you could get paid enough to do it); a post session doll cleaner and professional doucher....
---
Just like Germany/Hitler/Ribbentrop and USSR/Stalin/Molotov splitting 'ownership' of sovereign Poland, plus its 'Danzig Corridor.' Oh, but they...
---
But they can't complain about them all; after all, we have an excerpt from the syllabus for; AMCULT 103: Drag in America (University of Michigan)...
---
"Two possibilities exist: Either we are alone in the Universe or we are not. Both are equally terrifying." - Arthur C. Clarke