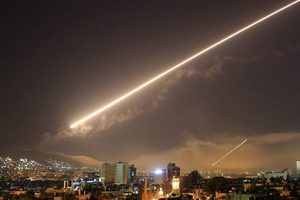 Syrian air defense systems protecting Damascus - the oldest continuously-inhabited city on Earth - from Western airstrikes, 14 April 2018
In the Truth there is no news, and in the News there is no truth
- Popular Russian saying under Soviet Communism
Recent Comments
I've got a great freaking idea for ending the suffering of guys like Mr. Mancini; end war
---
What can I say? I am easily amused! Guffawed at: "Comey has sent an itemized minute-by-minute breakdown of his day to the FBI every day since...
---
Radical means 'different', doesn't it? As one were to have a different opinion, or different belief? Only to those with an agenda unfavorable to...
---
I dunno. I'm weird. I thought the piece was funny. I might be the person who always laughs at your jokes.
---
I was mesmerized by this article. And incredibly, deeply saddened for the individuals who experience PTSD.