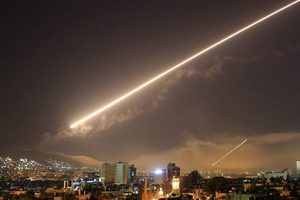 Syrian air defense systems protecting Damascus - the oldest continuously-inhabited city on Earth - from Western airstrikes, 14 April 2018
All truths are easy to understand once they are discovered; the point is to discover them.
- Galileo Galilei
Recent Comments
Probably too far to be a kite and then it goes out further, unless someone just cut the rope.
---
Why didn't anyone try to shoot it?
---
Maybe a kite of some sort?
---
The EU has to create it's own polarity still. The way it is now won't work or if the author believes that TWO polarities is enough- the US being...
---
It's right to the point.