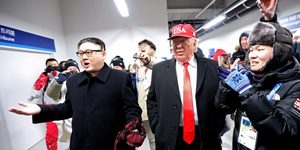 Did The Donald and Rocket Man secretly meet at the Winter Olympics in PyeongChang?
The West won the world not by the superiority of its ideas or values or religion (to which few members of other civilizations were converted) but rather by its superiority in applying organized violence. Westerners often forget this fact; non-Westerners never do.
- Samuel P. Huntington
Recent Comments
To add to what zman says, Pence is against Roe v Wade. If President, he will work to undo it. Gee - do you think that will be just a bit divisive?
---
Yes, the US is almost overtly at war with Russia. Yet, the two countries cooperate ever so friendly with their CGI ISS and with Antarctica, which...
---
Leaders tend to reflect the society from within which they come. America's illusion of exceptionalism, hegemony and or world domination positions...
---
Those wishing for a Trump impeachment better take a good look at his replacement. This guy is far worst that the Buffoon-in-chief. A...
---
"Mueller patched together much of his indictment from 2015 Radio Free Europe article" To make this even more laughable, one has to understand that...