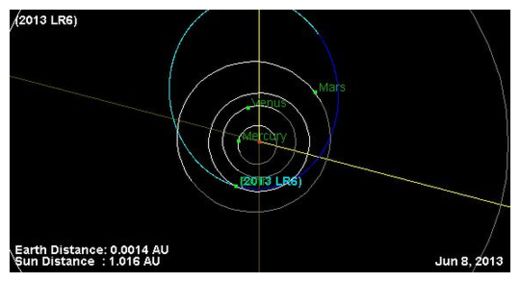 A truck-sized asteroid just discovered yesterday (Thursday, June 6) will give Earth a relatively close shave later today/early tomorrow, depending on your time zone. Asteroid 2013 LR6 is somewhere between 5- 16 meters (16 to 54 feet) in diameter and will be flying by at only about 111,000 kilometers (69,000 mi, 0.29x Lunar Distances) from Earth at 4:43UTC/12:43AM EDT on June 8, 2013.
This is similar in size to the space rock that
exploded over Russia back in February of this year.
The Russian asteroid was about 15 meters (50 feet) in diameter before it exploded in an airburst event about 20-25 km (12-15 miles) above Earth's surface.
Find out how you can watch the flyby live online, below.