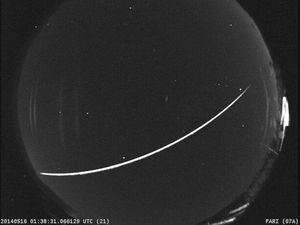 One of two meteors that lit up the Southern sky Thursday night burned up over Tennessee.
Bill Cooke, head of NASA's Meteoroid Environment Office, said the very bright meteor entered the atmosphere over Columbia, S.C. at
9.38 p.m
. The basketball-sized meteor flew northwest at speeds reaching more than 78,000 miles-per-hour, eventually burning 52 miles above Pikeville, Tenn., just north of Chattanooga. In all, the meteor flew 290 miles, which Cooke said is quite rare.
The video below is from Cooke's blog and shows the meteor shooting across the sky.