The graph below, titled "Known Near-Earth Asteroids," is simultaneously both terrifying and a little bit comforting. Problem is, the Y-axis on a hypothetical graph titled "Unknown Near-Earth Asteroids" would definitely extend much, much higher. Either way, we don't have a good deal of knowledge about what to do about potentially Earth-threatening asteroids, anyway.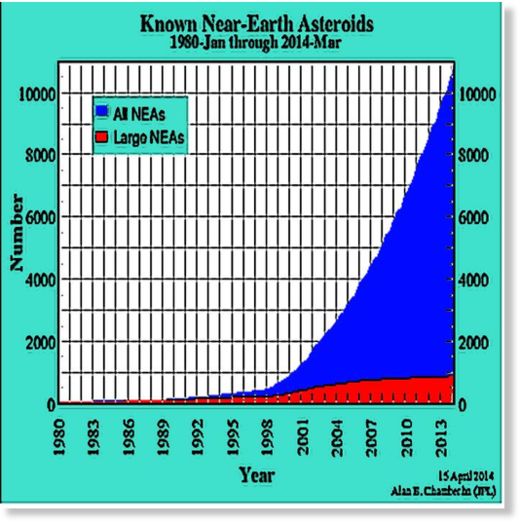 That much was clear back in
February of last year, when a meteor struck Chelyabinsk, Russia
. The meteor came, as far as NASA and other groups that track such things are concerned, from nowhere.
The fear now is that a Chelyabinsk-sized asteroid could hit a city in a war-torn or politically tense area, which would be the powder keg necessary to throw a whole region into turmoil. It may seem like a longshot, and it may seem like something not worth worrying about, but John Remo, a Harvard-Smithsonian Center for Astrophysics researcher would beg to differ. Remo just published a paper in the
Bulletin of Atomic Scientists
that warns that an asteroid impact could easily be seen as an act of war.