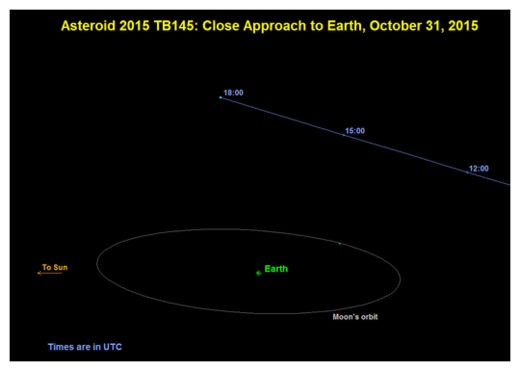 The big asteroid that will zoom past Earth on Halloween may actually be a comet, NASA researchers say.
The roughly 1,300-foot-wide (400 meters)
asteroid 2015 TB145
, which some astronomers have dubbed "Spooky," will cruise within 300,000 miles (480,000 kilometers) of Earth on Halloween (Oct. 31) — just 1.3 times the average distance between our planet and the moon.
Though 2015 TB145 poses no threat on this pass, the flyby will mark the closest encounter with such a big space rock until August 2027, when the 2,600-foot-wide (800 m) 1999 AN10 comes within 1 Earth-moon distance (about 238,000 miles, or 385,000 km), NASA officials said.
Astronomers plan to beam radio waves at 2015 TB145 on Halloween using a 110-foot-wide (34 m) antenna at NASA's Deep Space Network facility in Goldstone, California, then collect the reflected signals with the Green Bank Telescope in West Virginia and Puerto Rico's Arecibo Observatory.
Such work should reveal key details about the space rock's size, shape, surface features and other characteristics — including, perhaps, its true identity.
"The asteroid's orbit is very oblong with a high inclination to below the plane of the solar system," Lance Benner, of NASA's Jet Propulsion Laboratory in Pasadena, California,
said in a statement
.