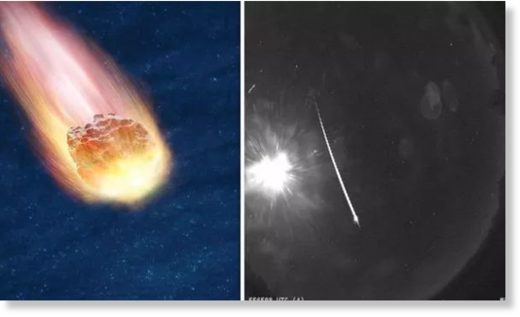 The video showed a fireball travelling at more than 200,000 kilometres per hour light up the night sky over Arizona yesterday. The space rock was part of the relatively newly-discovered meteor shower, the October Ursae Majorids, which was only deemed separate from the usual October Orionid and Taurid meteors in 2007. NASA said the small object was travelling at a staggering 57.2 kilometres per second - or 205,920 km per hour - when it crashed into and exploded in Earth's upper atmosphere.
The NASA video showed the object streaking across the night's sky before producing a flash which outshone the Moon.
NASA has traced the meteor back to the Big Dipper constellation, which allowed the space agency to confidently state it is part of the October Ursae Majorids shower.
The meteor shower peaks during mid-October, and on clear nights one fireball can be seen per hour on average.
No debris from the meteor has yet been discovered on the ground.