"Year of meteors! Brooding year!" - Walt Whitman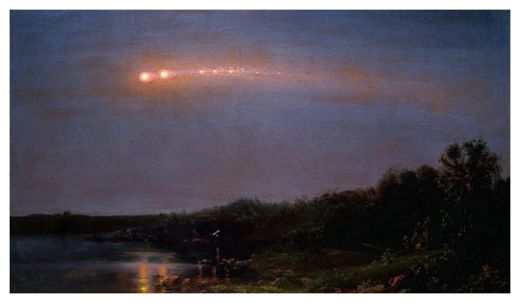 July 20
th
is a red letter date in space history. Apollo 11, the first crewed landing on the Moon, took place on this day in 1969. Viking 1 also made the first successful landing on Mars, seven years later to the day in 1976.
A remarkable astronomical event also occurred over the northeastern United States 153 years ago today on the night of July 20
th
, known as the
Great Meteor Procession of 1860
. And with it came a mystery of poetry, art and astronomy that was only recently solved in 2010.
A meteor procession occurs when an incoming meteor breaks up upon reentry into our atmosphere at an oblique angle. The result can be a spectacular display, leaving a
brilliant glowing train
in its wake. Unlike early morning meteors that are more frequent and run into the Earth head-on as it plows along in its orbit, evening meteors are rarer and have to approach the Earth from behind. In contrast, these often leave slow and stately trains as they move across the evening sky, struggling to keep up with the Earth.