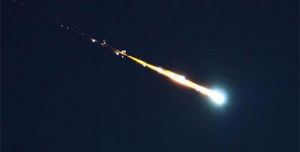 What was this mysterious explosion reported over Corsica on August 30 2014? According to witnesses, the loud boom lit up the sky.
Was it a disintegrating fireball?
In the night of Friday to Saturday, August 30, 2014, an explosion was heard at around 2am across Corsica.
From Saint Cyprien, Chera through Muratello, Alistro, Bonifacio and up to Sartene, many people have reported a loud bang literally lighting up the sky.
Although the site of the explosion has not been determined yet, police and security are investigating the source of this detonation. Meanwhile here is a timelapse that immortalizes this mysterious flash (@ 0:28) from Sartene: