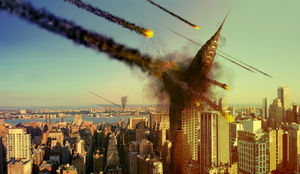 So many new comets were discovered last year that astronomers named 2013 the '
Year of the Comet
'. Less popularlized was the noticeable increase in fireball meteors observed in the Earth's atmosphere. Another year has passed and fireballs are still raining down like never before, with their rate apparently increasing exponentially.
SOTT.net has been cataloguing fireball events
since 2002
, and a couple of other
websites
have sprung up since then, but in general the lack of record-keeping and media coverage of this phenomenon is shocking, especially given how extraordinary the phenomenon is (or rather,
was
- apparently it's 'normal' now!) and whatever it may portend for civilization, sometime in the future, if not immediately.
One relatively new resource is the American Meteor Society's '
Fireball Logs
', a database where eyewitnesses have been submitting reports of fireball events in the U.S. The AMS does subsequent checks to verify events with the All-Sky Fireball Camera Network set up by NASA's Meteoroid Environment Office (MEO) and other observation networks. Their stats are remarkable, yet they do fit with what we've noticed at SOTT.net in recent years: the numbers just keep going up and up, and at an ever increasing rate!
Using the AMS data, which begins in 2005, I've created the following tables to give readers a visual for what's going on. Check this out: