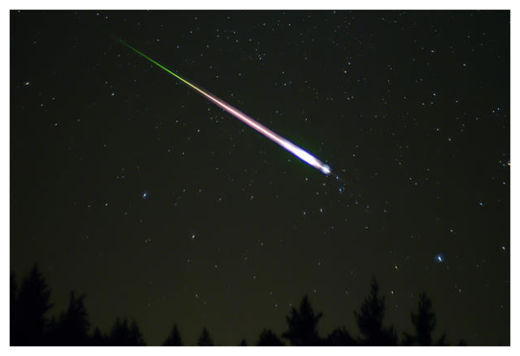 Some sky watchers out to
view the grouping of Mercury, Venus and Jupiter
got an extra treat on Sunday night as a particularly bright meteor - called a bolide - zipped through the skies a little after 9 p.m. local time.
Glimpses of the
bolide
were reported from Maryland in the U.S., to Ajax, Ontario as it burned up in the atmosphere. People reporting
the event
on American Meteor Society website called it one of the "brightest fireballs [they'd] ever seen" with a wide, bright flame trail.
'Fireball' is the name given to a meteor that appears to be brighter than Venus - one of the brightest planets in our sky, and a 'bolide' is a fireball that burns so bright that it can outshine the full moon. While spotting a fireball is rare, the meteors that cause them aren't; according to the AMS, several thousand occur in Earth's atmosphere each day.