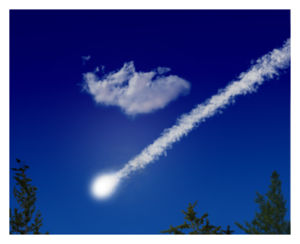 There are reports of a fireball streaking through the skies of Southern Manitoba.
Scott Young with the Manitoba Museum tells CJOB they got some calls from the Interlake just before 11 this morning.
"Saying, is there something going on? I saw this big trail of smoke in the sky and then we had a big explosion, but I didn't hear any sounds. What's with that?
Well we think what happened is a little asteroid or a big version of a meteor came into the atmosphere somewhere over Central Manitoba, and exploded."
Young says they can't pinpoint where it was yet, but they suspect it was in western Manitoba, so they're asking for anyone who saw it to let them know, so they can triangulate a location.