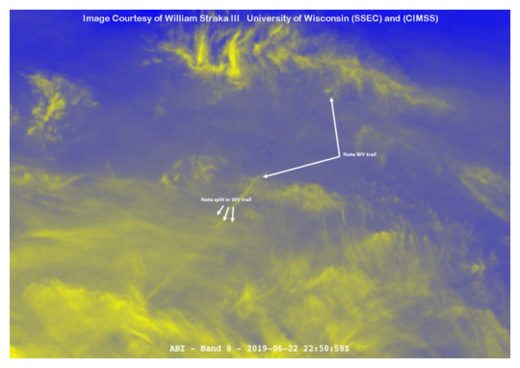 On June 22nd at 21:25 UT, a small asteroid entered Earth's atmosphere and exploded in broad daylight south of Puerto Rico. Airwaves recorded by the Comprehensive Nuclear Test Ban Treaty Organization's infrasound station in Bermuda pegged the blast energy between 3 and 5 kilotons of TNT-a fraction of a WW II atomic bomb.
The explosion was clearly visible in images from NOAA's GOES-16 weather satellite:
Meteor expert Peter Brown of the University of Western Ontario says the infrasound signal is consistent with a "small multi-meter sized near-Earth asteroid." According to data compiled by NASA's Center for Near Earth Object Studies, asteroids of this size and energy hit Earth's atmosphere about once a year. That means it's rare-but not exceptionally so.