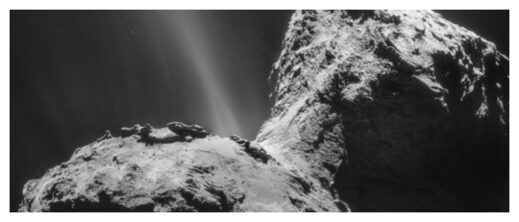 Aurora - the dancing glow of ionised particles in Earth's upper atmosphere - is not unique to our planet.
The phenomenon has been spotted shining in the atmospheres of every other planet except Mercury. Even Jupiter's moons Ganymede and Europa have auroras.
Never, until now, had an aurora been detected on a comet.
But, in a new analysis of data collected by the
Rosetta
spacecraft, the space around Comet 67P Churyumov-Gerasimenko (67P/C-G)
has been observed glowing with far-ultraviolet auroral radiation.
"I've been studying the Earth's auroras for five decades,"
said physicist Jim Burch of the Southwest Research Institute
.
"Finding auroras around 67P, which lacks a magnetic field, is surprising and fascinating."
Auroras are generated by the excitation of charged particles in an atmosphere.
Here on Earth, for instance, the solar wind blows into the magnetosphere and interacts with charged particles there.
These particles rain down into the upper atmosphere and are funneled up the magnetic field lines to the poles, where they manifest as rippling curtains of light.
It works differently on different bodies, though. The auroras of
Ganymede
and
Europa
are generated by interactions with Jupiter's magnetic field.
Venus doesn't have a magnetic field of its own that we know of, but interactions with the solar wind creates one strong enough to trigger auroras.
Mars
' atmosphere is extremely thin, but its weak magnetic field can support auroras.