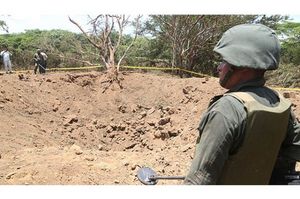 What was it NASA said about yesterday's 'fly-by' of Asteroid 2014 RC?
"... there will be no impact."
To their credit, they
had
calculated that it would pass pretty darn close, inside Earth's geosynchronous ring of communications and weather satellites, about 36,000 km from the planet's surface. What they don't factor in is that asteroids can fragment as they approach Earth, causing some fragments to change course... towards us.
A massive explosion rocked Managua, Nicaragua, around 11pm local time Saturday, September 6th.
Local media are quoting local authorities as saying it was caused by an incoming meteor
, which they suspect was
originally part of Asteroid 2014 RC
's September 7th 'fly-by'
.
One of the fragments apparently made it all the way to the ground, gouging out
a 12-meter wide crater next to the city's airport
: