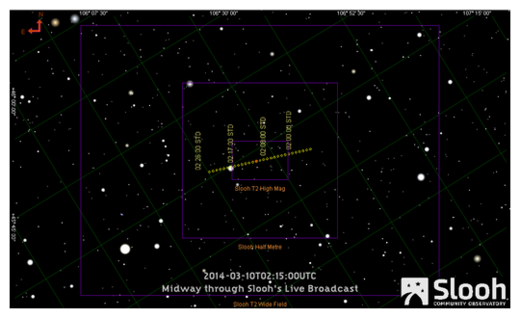 An asteroid at least the size of a 60-story building will make a distant flyby of Earth this week, and you watch astronomers track the space rock tonight (March 9) in a live webcast, weather permitting. The asteroid poses no threat to Earth.
The online Slooh community observatory will host the free webcast at 10 p.m. EDT (0200 GMT) to track
asteroid
2014 CU13, a space rock about 623 feet (190 meters) wide discovered on Feb. 11 that will pass Earth at a range of about eight times the distance between Earth and the moon on Tuesday (March 11). The average Earth-moon distance is about 239,000 miles (385,000 kilometers), so eight lunar distances is about 1.9 million miles (3 million km).
You can watch the asteroid webcast live on the
Slooh website
, with streaming views from Slooh's remotely operated telescope in the Canary Islands, off the west coast of Africa. You can
watch the asteroid webcast live on Space.com here
.