New Comet SWAN brightens, while Comet ATLAS continues to fragment and Comet PanSTARRS holds steady.
There's a lot happening in the northern sky these days, namely lots of comets! Comet ATLAS is still worth watching, but look for the new Comet SWAN (C/2020 F8). And you can still catch a glimpse of our old friend, Comet PanSTARRS (C/2017 T2).
COMET CRAZY
Comet ATLAS (C/2019 Y4) continues to shed fragments while slowly fading and becoming more diffuse. But it ain't dead yet!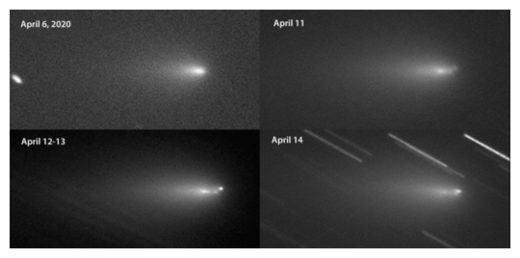 Observers are still spotting the crumbling object in 100-mm binoculars and (dimly) in 6-inch telescopes under dark skies. On April 14th at 3
h
UT the comet's overall magnitude had faded to 9.4, but striking changes have occurred within the inner coma. The nuclear region is now clearly elongated east-to-west with hints of fuzzy condensations visible along its length, using magnifications upward of 300× and averted vision.