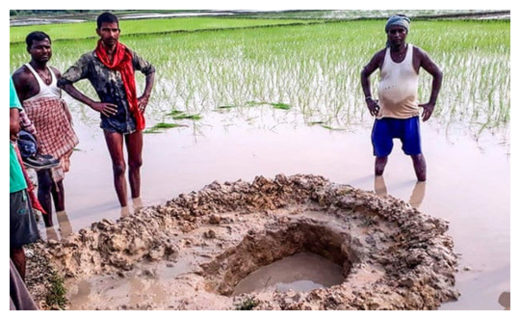 Madhubani/Patna:
Farmers working in a paddy field at a village in Madhubani district were left shaken when a meteorite-like object weighing around 15kg fell from the sky, leaving a crater at the spot where it crashed.
Madhubani DM Shirsat Kapil Ashok told TOI that the incident took place around 2.30pm on Monday.
"Agriculture labourers working the paddy field where the meteorite struck claimed that they saw a fireball-like object coming down from the sky and made a deep crater where it hit the ground. The farmers also saw smoke coming out from the spot in the water-filled agriculture field,"
Shirsat said.
Displaying the 'meteorite' wrapped in a red cloth on Tuesday morning, the Madhubani DM said the stone-like object has magnetic properties. He added that the mysterious object was kept secure in the treasury office at the Madhubani collectorate.
"I have written a letter to the principal secretary of the science and technology department along with a copy to the principal secretary of state art, culture and youth affairs department," Shirsat said, adding the sample was sent to Patna on Tuesday evening.
"The science and technology department will take a decision regarding further action. The object might be sent to space research organisations like ISRO or any museum," Shirsat said.