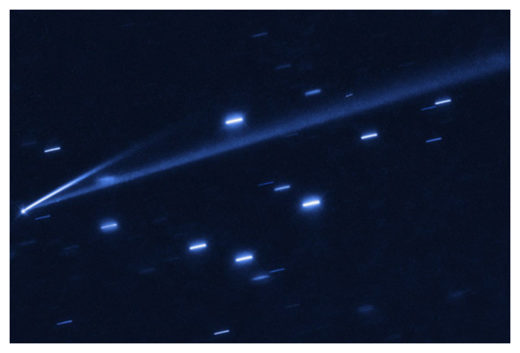 Last December, scientists discovered an "active" asteroid within the asteroid belt, sandwiched between the orbits of Mars and Jupiter.
The space rock, designated by astronomers as 6478 Gault, appeared to be leaving two trails of dust in its wake — active behavior that is associated with comets but rarely seen in asteroids.
While astronomers are still puzzling over the cause of Gault's comet-like activity, an MIT-led team now reports that it has caught the asteroid in the act of changing color, in the near-infrared spectrum, from red to blue.
It is the first time scientists have observed a color-shifting asteroid, in real-time.
"That was a very big surprise," says Michael Marsset, a postdoc in MIT's Department of Earth, Atmospheric and Planetary Sciences (EAPS). "We think we have witnessed the asteroid losing its reddish dust to space, and we are seeing the asteroid's underlying, fresh blue layers."
Marsset and his colleagues have also confirmed that the asteroid is rocky — proof that the asteroid's tail, though seemingly comet-like, is caused by an entirely different mechanism, as comets are not rocky but more like loose snowballs of ice and dust.
"It's the first time to my knowledge that we see a rocky body emitting dust, a little bit like a comet," Marsset says. "It means that probably some mechanism responsible for dust emission is different from comets, and different from most other active main-belt asteroids."
Marsset and his colleagues, including EAPS Research Scientist Francesca DeMeo and Professor Richard Binzel, have published their results today in the journal
Astrophysical Journal Letters
.