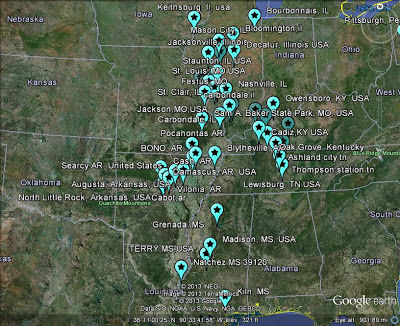 Initial Meteor Sighting Reports
18 May 2013 - Tristen Dixon Vilonia, AR 22:45:00
5 seconds duration. I faced east, it went from south to north. Green/white color and very bright.
18 May 2013 - J.B., Augusta, Arkansas, USA 22:40:00
Approx 4 seconds duration. S-N direction. Bright blue and green with white flashes. Bright as the moon, flashes as bright as the sun, like lightning. Small pieces like sparks. Could swear I heard a distant jet-like noise which may have been an actual jet but it did directly coincide with the meteor, so... ????
18 May 2013 - Michael Schoelzel, Mascoutah, IL, 22:40 cst
I saw the last 2 seconds. It started east and traveled west. I was looking south. Super brilliant white & green. Super bright! Fragmentation, looked like it disintegrated with green fragments as it was breaking apart. Probably second most amazing thing I've seen, right after last week's observation, interestingly in the same area of the sky from my point of view. Simply breathtaking! Something is really not right here, I've been fascinated with the sky all my life, but only in recent years, or better yet months, have I ever witnessed such wild activity, thank you for the interest, I feel better now having reported it!