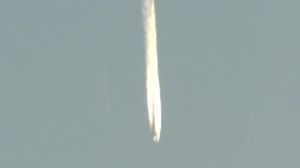 Missoula - It came from the sky, and the burning question is, what was it? Reporter Jacqueline Quynh took a look at the reported fireball that some saw Friday morning in Western Montana.
We got the above photo from Chystene Garagliano from Stevensville, who snapped the picture around 9:30 a.m. Friday morning. Some folks said it looked like a big green meteor.
"From what you showed me, it's probably not aliens," Western Montana Astronomical Society President Nicholos Wethington observed.
We showed photos of the object to Wethington at the SpectrUM Discovery Center. He heads a group of people who share info from observations in the sky.