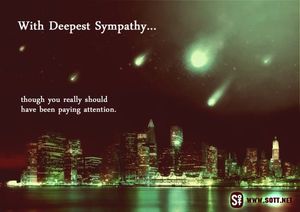 John and Marianna Connolly of Williamsburg were going on a stroll in Look Park at dusk when they were shocked to see a "fireball" streak across the sky overhead.
"I thought it was fireworks at first, but it was way up there," John Connolly said Sunday, soon after seeing the object at about 5:10 p.m. "It was way brighter than any meteorite I've seen."
Similar reports from people all over New England, New York and New Jersey flooded Twitter and the website of the National Meteor Society soon afterward. Of the 90 reports of the bright object on the website, called a meteorite or fireball by many, 17 were from Massachusetts, including one from Amherst.
Connolly said the fireball was about five times bigger and hundreds of times brighter than most meteorites he has seen. He said it glowed blue and orange as it traveled for three or four seconds northeast across the sky before disappearing behind clouds
.
Whatever it was, he said, "it was in the atmosphere for sure,
it was burning up."
'Fireball' seen streaking across sky over Northampton; reports from all over Northeast
He noted that it was not completely dark out at the time, and usually meteors are only visible when it is completely dark. "This was very bright, as bright as the moon," he said
.
Neither he or his wife heard any noise when they saw the fireball, he said.
A report from Rollingsford, N.H., said the fireball appeared to be about the size of a quarter when held at arm's length and had a trail of sparks. Others commented that it left a green trail and appeared low in the sky.