Fireballs
Jm Madiedo
Youtube
Wed, 01 Apr 2015 16:20 UTC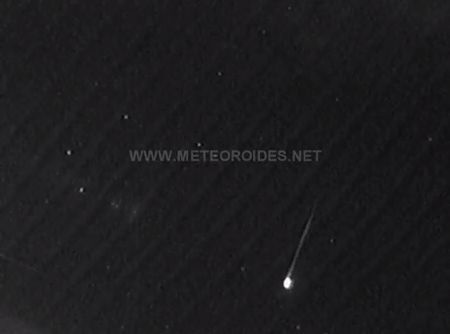 Fireball recorded over Cordoba on March 31st, 2015. The event was produced by a fragment from a comet.
---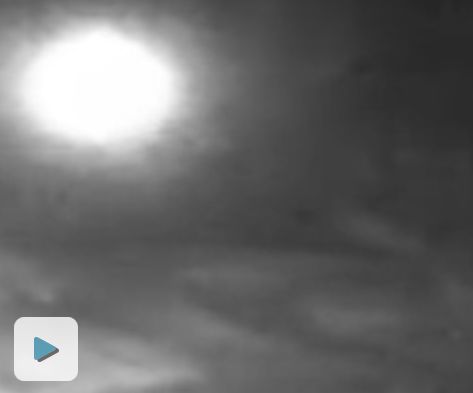 A fireball travelling at 45,000 kilometres per hour was seen from the province of Toledo this week -
the second time this year.
The burning rock, a chunk of an asteroid, flew through the skies above the central region of Castilla-La Mancha at 04.39hrs on Monday, say astronomers from the observatory in La Hita, near Toledo.
It was about 26 kilometres up from the ground when it was first spotted, having firstly sailed across the horizon over nearby Espinosa del Rey at 85 kilometres up.
---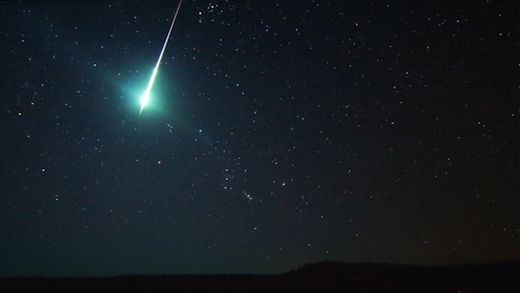 From Concord to Davis, and as far south as Palo Alto, seven sky watchers spotted a fireball streaking across the sky Monday night after 8 p.m., burning in oranges, yellows, and even purples before fragmenting and disintegrating overhead.
Spring is "fireball" season when a 30 percent increase in meteors is observed around earth, and Monday night's reports of a fireball over the Bay Area are exactly what NASA and astronomers hope to track.
"Forrest L" in Concord reported to the American Meteor Society, "This was the brightest meteor I can recall having seen. It passed about a hand span or two from the moon and seemed brighter. I could not tell if it 'burned out' or disappeared behind the clouds. My first sight of it was directly overhead, and fully bright, not faded-in as most meteors do, so I believe it started behind me. It moved much faster than an airplane."
"Greg M" in Martinez wrote in, "I ran into the house to tell everyone to get away from the windows."
Some reported hearing a sound, while most others heard nothing, but many saw a burning trail of cosmic debris.
NASA's Alex Kasprak writing for Science@NASA and NASA's Goddard Space Flight Center explains the March-April "Fireball Season" saying, "The reason why is still unknown, but one hypothesis is that more space debris litters this section of Earth's orbit. In search of the answer, NASA scientists set up a network of ground cameras that track and record video of meteors flaming overhead. The footage can be used to pinpoint a meteor's orbit and origin. Watch the video to learn more."
---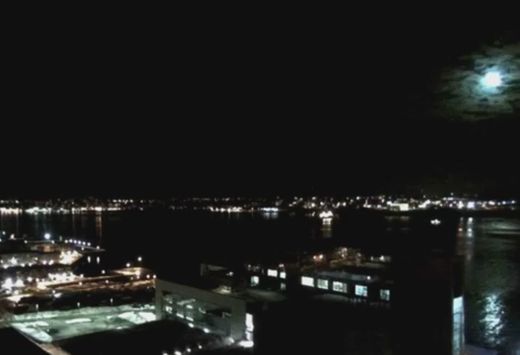 People across Nova Scotia took to social media Tuesday after seeing a ball of fire in the night sky.
Astronomer David Lane, director of the observatory at Saint Mary's University in Halifax, said it was likely a bright meteor called a fireball.
He said that while they are not rare, they do usually pass by in the middle of the night when most people are sleeping.
---
A major search was launched after distress flares, which turned out to be a meteor, were reported in Cumbria.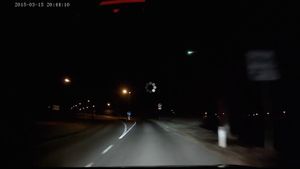 Concerned members of the public reported someone in trouble at about 9.20pm last night.
Maryport Coastguard Rescue Team was dispatched to the area, between Workington and the Isle of Whithorn, where members took up various observation points while Workington lifeboat was dispatched to carry out a search.
A spokesman for the coastguard said: "After a thorough search of the area and enquiries made - as well as receiving more reports from other parts of the country reporting lights in the sky - it was decided that
the sighting was probably a meteor.
"
---
A meteorite has landed in the Sredna Gora mountain near the town of Sopot, in Central Bulgaria.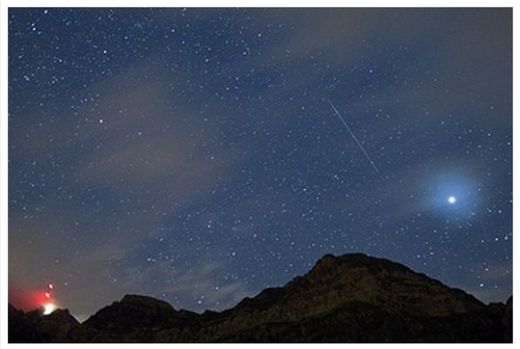 Locals reported seeing bright lights just before 19:00 EET (17:00 GMT) followed by rumbles and smoke
, according to Novinite's Bulgarian-language website.
Some witnesses claim the fireball looked "the size of a washing machine" while making its way downwards.
---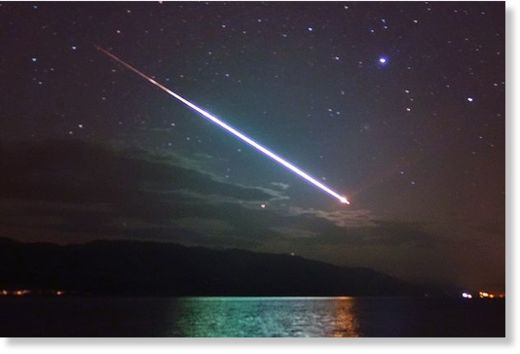 When tourist guide John Alasdair Macdonald snapped a landscape shot across the lake he accidentally captured a giant shooting star
This spectacular picture shows the 'fluke' moment a fireball meteor was pictured soaring over the Loch Ness last night.
Gobsmacked John Macdonald, 42, went for a walk at 9pm when he snapped the rare sight lighting up the sky.
The meteor was so bright it would have terrified Nessie and even caused panicked locals to phone the coastguard after mistaking it for a distress flare.
---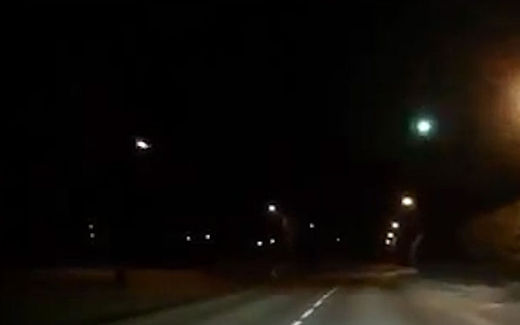 Footage of an unidentified object, thought to be a meteor or meteorite, moving across the night skies above central Europe has emerged online.
The video
,
which was filmed using a car's dashboard camera, shows the fireball streaking across the sky above a road in the Tyrol region of Austria.
There were also reported sightings in eastern France, Germany and Switzerland.
The exact nature of the object is not yet known, but it can be seen glowing brightly as it makes its way through the sky before disappearing.
---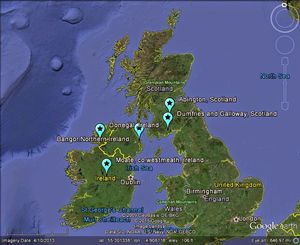 15MAR2015
Maga Moate, co.westmeath, Ireland 21:00:00 5-6 seconds N-S.
Very bright orange with a green tail, very close like firework, slow moving Brighter than Venus
. No fragments. No pictures.
15MAR2015
Jamie MacEwan aka Jamie Groobel. Screwtop Fulton, Amisfield, Dumfries and Galloway, Scotland. Approx 20.59 GMt 2-ish seconds South East towards North west. Orange ball followed by a bunson burner effect tail: yellow surrounded by pale blue/ white. Almost like a car headlight at full beam at 400 metres No. I have seen fragmentation once before. I thought that experience would never be topped (2012 - unreported).
I feel as if I am in a state of shock
. I watched an object travelling east to west in the small hours of the morning on a clear, crisp morning in the spring of 2012 whilst driving an HGV across the A66 from Scotch Corner to Kendal. On that occasion the Orange ball split into around 4 pieces in way that I can only describe as like a rocket breaking apart.
Tonight it was not like that -'around 2 or so seconds then it appeared to 'burn out'. Incredible!!
---
Brian Ries
Mashable
Wed, 11 Mar 2015 15:59 UTC
So it's true: The early bird gets the fireballs.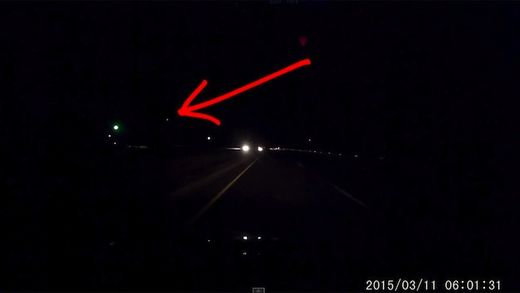 Coloradans who were up before the sun on Wednesday morning saw a "bright green" fireball soar across the sky before it burned out over the mountains.
More than 60 eyewitnesses filed sightings on the American Meteor Society's
website
.
Greg Moore, an analyst and contributor at
Weather5280
, told Mashable he was driving over the top of Vail pass, west of Denver, just before 6 a.m. local time when "a bright green fireball caught my eye."
The object had a "flaming tail with a long trail behind it," Moore said. "As it moved towards the far horizon it started to flame out, but even after the tail was gone a bright orange ball was still visible till it disappeared beyond the far mountain range."
"It was pretty incredible," he said.
Snapchat user Joel Jimenez sent Mashable video he caught from a Home Depot parking lot in Fort Collins.
Brian Paulson, a software engineer, caught the fireball on his car's dash cam while driving about 15 miles north of Pueblo, Colorado. A second man
caught it on his dash cam
from Denver.
---