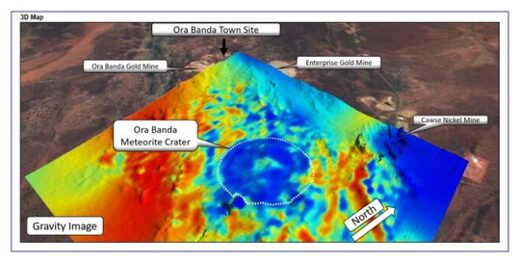 Gold miners in the Australian Outback recently discovered a gigantic
meteorite
crater dating to about 100 million years ago, back when dinosaurs roamed the Earth.
Found near the Western Australian town of Ora Banda, the newly dubbed Ora Banda Impact Crater is about 3 miles (5 kilometers) across. This huge hole was likely created by a meteorite up to 660 feet (200 meters) wide, or longer than the length of two American football fields,
according to Resourc.ly
, a Western Australia news outlet.
When geologists at Evolution Mining, an Australian gold mining company, came across some unusual rock cores at Ora Banda, they called Jayson Meyers, the principal geophysicist, director and founder of Resource Potentials, a geophysics consulting and contracting company in Perth. Meyers examined the geologists' drill core samples, as well as rock samples from the site, and he immediately noticed the shatter cones — telltale signs of a meteorite crash.
Shatter cones form when high-pressure, high-velocity shock waves from a large impacting object — such as a meteorite or a gigantic explosion (such as would occur at a nuclear testing site) — rattle an area,
according to the Planetary Science Institute
(PSI), a nonprofit group based in Tucson, Arizona, which was not involved with the new find. These shock waves shatter rock into the unique shatter cone shape, just like a mark that a hard object can leave on a car's windshield.
Because "we know they didn't do any nuclear testing at Ora Banda," the evidence suggests that an ancient impact crater hit the site, Meyers told Resourc.ly.