Fireballs

Comment: Global map of locations where fireballs have been seen so far in 2015:




---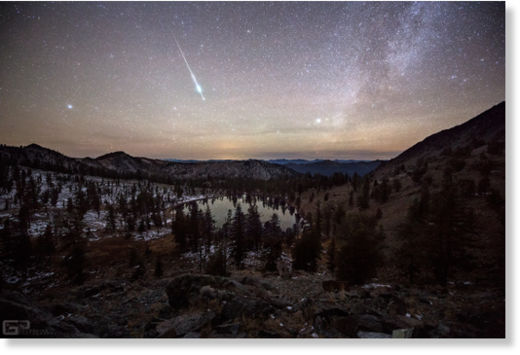 "The landscape was just at the verge of trying to silently explode with vibrant colors of red, gold and oranges," said photographer
Brad Goldpaint
as he described the autumn view during his hike to Deadfall Basin in California to set up his cameras to try and capture a few Taurid meteors.
But the landscape wasn't the only thing about to explode.
Later that night Brad captured a few "exploding" meteors that produced what are called persistent trains: what remains of a meteor fireball in the upper atmosphere as winds twist and swirl the expanding debris.
Brad created a time-lapse video from the event and slowed down the footage to highlight the trains.
---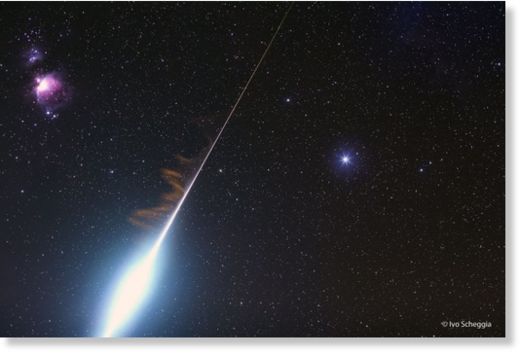 What's happening to that meteor? A few days ago, a bright fireball was photographed from the Alps mountain range in Switzerland as it blazed across the sky.
The fireball, likely from the Taurids meteor shower,
was notable not only for how bright it was, but for the rare orange light it created that lingered for several minutes.
Initially, the orange glow made it seem like the meteor trail was on fire. However, the orange glow, known as a persistent train, originated neither from fire nor sunlight-reflecting smoke. Rather, the persistent train's glow emanated from atoms in the Earth's atmosphere in the path of the meteor — atoms that had an electron knocked away and emit light during reacquisition.
---
---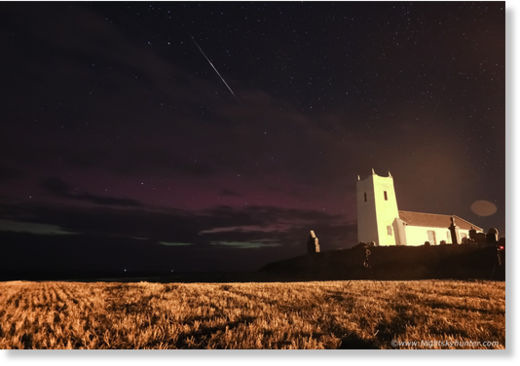 Night Sky Hunter Martin McKenna filmed this stunning night sky time lapse of aurora, Taurid fireball and stars at Ballintoy church and harbour. Credit: Martin McKenna
---
RT.com
Thu, 12 Nov 2015 06:53 UTC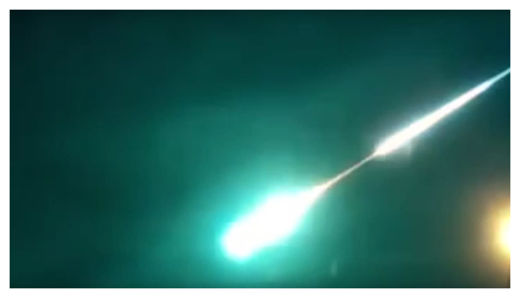 A huge fireball has been spotted in the skies over the Russian city of Chita near the border with China. An unidentified flying object, most probably a meteorite, made three extra bright flashes before burning out, according to eyewitness accounts.
A video claiming to show a bolide [meteor] burning out in the skies was posted on YouTube. Witnesses described the incident as an unusually bright flash that illuminated the skies just after midnight on November 12. The falling object left long tail of light behind it.
---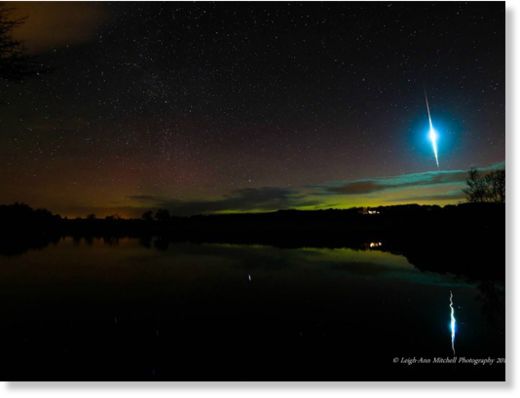 An aurora-hunting north-east photographer has captured a stunning image of a meteorite fireball falling to earth. Leigh-Ann Mitchell, from Ellon, had been out at the weekend scouring the night skies for any sign of the Northern Lights. The self-proclaimed "aurora chaser" settled at Pitfour Estate in Mintlaw, where she thought she had the best chance.
But the 40-year-old amateur snapper got more than she bargained for when she captured the moment a fireball from the Taurid meteor shower fell from the sky, combined with the heavenly aurora glow.
The shower is notorious for producing fireball flares, and experts said
this year would be the best chance to witness them yet
.

Comment: Interesting comment about it being the 'best chance yet' - is that perhaps because of the incredible uptick in meteor fireball activity?


---
Nicholas Reilly
Metro (UK)
Tue, 10 Nov 2015 15:13 UTC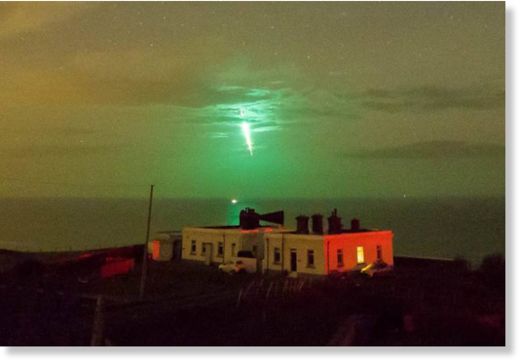 It might look like something from Close Encounters of the Third Kind - but there's an entirely logical reason for this eerie green light hovering in the sky above a home.
It's actually a meteorite - and was captured on camera by Peter Horbury as it flashed through the clear night sky near Whitby, North Yorkshire.
The remarkable sight was captured at the same time as the Taurid Meteor Shower passes Earth - with larger cellestial debris being more visible than usual.
Peter, 57, captured the snap at 1.30 am on Saturday after he headed to Hornblower Lodge in Whitby, North Yorkshire.
---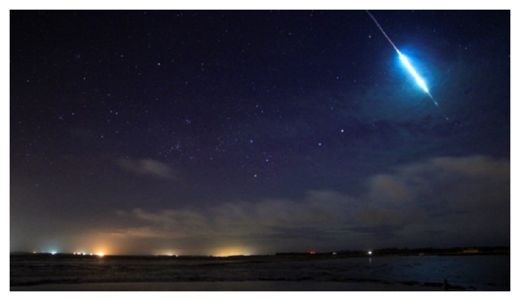 An Invercargill man accidentally snapped a picture of a bright flash of light in the night sky on Monday.
Tim Maynard was taking photos on Stead St, near the airport, when he captured a picture of a meteor. He was unaware of the light trail until he looked back over the stills.
The picture was taken using a ten-second exposure, he said.
Southland Astronomical Society president Phil Burt said meteors were common, particularly at this time of year.
"There's a meteor shower that recurs regularly at this time of year. The activity increases for some nights so you are bound to see several," he said.
---
Ahmed Areff
News24
Mon, 09 Nov 2015 11:11 UTC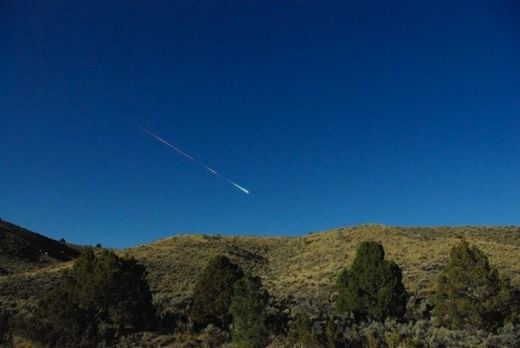 The Kouga municipality in the Eastern Cape is investigating rumours that a meteorite struck near the Patensie area on Sunday night.
A News24 user and several others described seeing flashes across the sky, as well as a loud explosion. "We have heard the same rumour and our emergency services are going out this morning to go and check it out," municipal spokesperson Laura-Leigh Randall told News24 on Monday morning. "The fire department did not get any calls on it."
Francois Greyling, a Democratic Alliance councillor in the Despatch area, who lives relatively near to Patensie, also heard an explosion. "I studied in Potchefstroom where the army did bombing practice which had a distinct thumping sound. I was watching a movie with the kids and the wife, when I heard what sounded like a bomb going off. "It immediately reminded me of that thumping sound," he said. Greyling said he "though nothing of it" until he saw people talking on social media about a possible meteorite strike in the area.
A News24 user said on Sunday night: "Massive explosion... a series of 'several lightning flashes' were observed in Paradise Beach [Jeffreys Bay] in a westerly direction at 21:00 on 8th Nov followed by about approximately 3 minutes later the sound of a massive explosion as though a bomb had gone off." JBay News tweeted at Nasa, asking, "Is it true that a meteorite landed in Patensie South Africa on 8th November?"
---