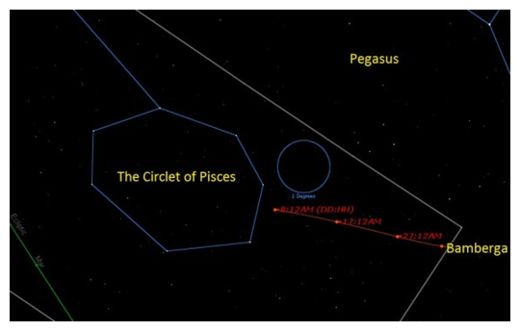 This week offers a fine chance to catch sight of a unique asteroid.
324 Bamberga reaches opposition this week in the constellation Pisces on (
friggatriskaidekaphobics
take note) Friday the 13
th
at 2PM EDT/16:00 Universal Time.
About 230 kilometres in size,
324 Bamberga
reaches 0.81 astronomical units from the Earth this week. No other asteroid so large gets so close. Discovered on February 25
th
, 1892 by
Johann Palisa
, 324 Bamberga only reaches a favorable opposition once every 22 years.
Shining at magnitude +8.1, 324 Bamberga is also one of the highest numbered asteroids visible with binoculars. Earth-crossing asteroids 433 Eros, which made a close pass last
year
, and 4179
Toutatis
are two of the very few asteroids that possess a larger number designations that can regularly reach +10
th
magnitude.