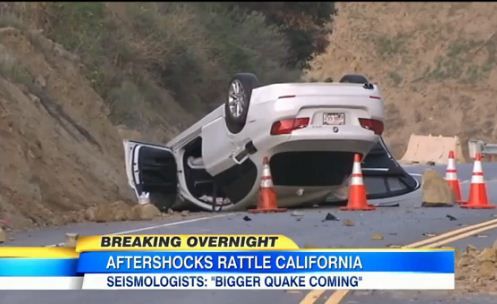 Comment:
More rain in California in one day than it got in the past year, a record cold winter in the U.S., a "1 in 100 years" flooding event in New Zealand, a meteor explosion that shook homes in New Mexico, giant hailstones in places that don't usually get any hail, record earthquakes in California, the Andaman Islands and all along the Ring of Fire, two meteor fireballs lighting up the East coast of Canada and northern U.S. states in the space of 24 hours, landslides and flash-flooding putting out wildfires in Western U.S. states, and the "worst flooding in living memory" on the Solomon Islands (at the same time as a strong earthquake)...
The following video compilation is a sample of just some of the planetary upheaval recorded in the last month.
Visit
HawkkeyDavis's Youtube channel
to check out the rest of his awesome work chronicling the 'signs of the times'.
The world has been overwhelmed with disasters in recent weeks. A series of fireballs and earthquakes has rocked and shaken this planet to its core. Meanwhile, the "one-in-100-year events" continue to strike...
Even though it looks like it sometimes, this series does not mean the world is ending! These are documentaries of series of extreme weather events that are leading to bigger earth changes. If you are following the series, then you are seeing the signs.
For those who can't view YT videos: