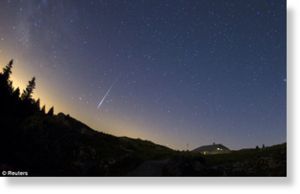 British scientists believe they have found evidence alien life after sending a balloon to the edge of space. The team of scientists sent a balloon 27km into the stratosphere and captured small biological organisms they say can only have come from space. The group, headed up by astrobiologist Professor Chandra Wickramasinghe, claims the 'seeds of life' have been transported between planets by passing meteors.
Professor Wickramasinghe, 74, and his team from the University of Sheffield sent a specially designed balloon into the atmosphere above Chester during the annual Perseid meteor shower. The balloon was carrying sterile microscope slides which were only exposed to the atmosphere at heights of 27km.
When the balloon fell back down to Earth the scientists discovered microscopic aquatic algae on the microscope slides - which they say can only be alien life forms.