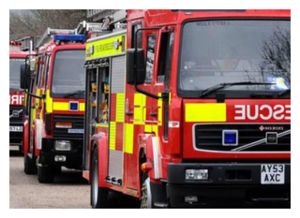 Emergency services have been called to the Thetford area after a member of the public reported seeing a "fireball" in the sky which then crashed to the ground.
Norfolk Fire and Rescue Service and Norfolk Police were called just after 2pm with reports of the sighting from a driver on the A1065.
Sam Beazley, 23, from Norfolk, said he and his mother, Jill Payne, had seen the object in the sky at around 1.45pm in between Mundford and Thetford as they travelled southbound towards the Fiveways roundabout.
"I was asleep and my mum woke me up to point out this object on fire to the left of us over Thetford Forest.
"At first she thought it must have been a flare but
it was far too large and was actually changing direction in the sky, rather than just falling. It looked like it might have been being controlled somehow.
"We lost sight of it when it went below the treeline - it was just bizarre," he said.