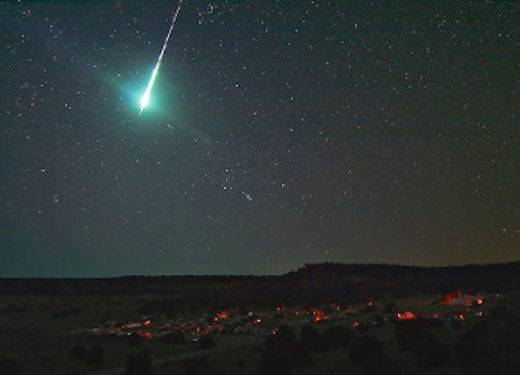 A spectacular fireball has been seen streaking across the sky by people across the North-East and further afield.
A luminescent green ball, which burned brightly for several seconds as it plunged earthward, could have been caused by an object no bigger than a pea.
It is thought it could have been an early arrival of the Lyrid meteor shower expected to begin tonight (Thursday, April 16) - caused when the earth passes through the dusty tail of Comet Thatcher.
The larger-than-average meteor fell in the northern skies at 9.25pm last night with sightings in County Durham, Newcastle, North Yorkshire, and Cumbria. It was first reported online by The Northern Echo's website.
Amateur astronomer Martin Whipp, of
Ripon
, North Yorkshire, said: "I was heading back home driving parallel to the A1 near Boroughbridge when I saw it.
"It was magnitude -5, which is slightly bigger than Venus and was visible for two to three seconds before it broke up into pieces as it came down. It was slightly greenish in colour."
Mr Whipp, who has been a member of the York Astronomical Society for more than 20 years, said: "It was a fireball. Anything brighter than Venus is classed as a fireball. Anything smaller than that is just a meteor.