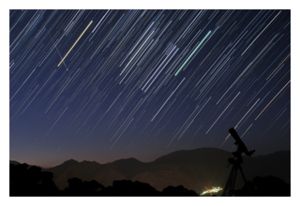 The
list of meteor showers
that occur every year has just grown longer.
Eighty-six previously unknown have now joined the regular spectaculars,
which include the Perseids, Leonids and Geminids. Astronomers spotted the shooting-star shows using a network of video cameras designed to watch for burglars, but repurposed to spy cosmic debris burning up in Earth's atmosphere.
The newfound showers are faint but important: each is fuelled by Earth's passage through a trail of particles
left behind by a comet
or asteroid, so mapping them reveals previously unknown sources of dust.
"The cool thing is, we are not just doing surveillance of meteors in the night sky," says Peter Jenniskens, an astronomer at the SETI Institute in Mountain View, California. "Now we also have a three-dimensional picture of how dust is distributed in the Solar System."
Most of the particles are the size of a sand grain, but a few are large enough to survive the searing heat of their passage through the atmosphere — and
possibly do damage on Earth's surface
. Jenniskens and his colleagues describe the discoveries in four papers accepted for publication in
Icarus
.
Astronomers have been documenting meteors for centuries, first by eye and more recently with radar and video-tracking systems. Meteors sprinkle Earth steadily throughout the year, but during a shower a significant number seem to originate from the same point in the sky. Skywatchers around the world have reported more than 750 possible meteor showers to the International Astronomical Union (IAU) — but only a small fraction of those have been confirmed as bona fide events.