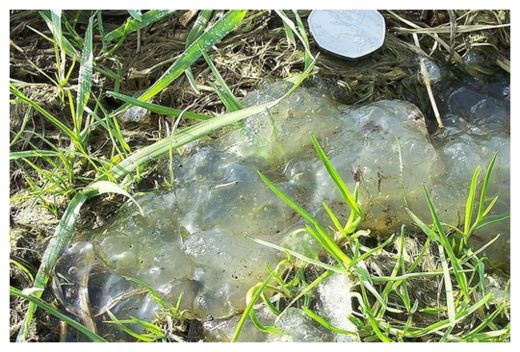 A mysterious green 'slime' said to come from outer space has left boffins baffled at a wildlife park.
The unidentified jelly-like substance has been found at the RSPB Ham Wall Nature reserve in Somerset.
And according to folklore, a similar slime known as 'astral jelly' is deposited after
meteor showers
.
The jelly has turned up at the park just three days after a
giant meteor streaked over the city of Chelyabinsk in central Russia
.
Tony Whitehead, an RSPB spokesman for the South West, said: "Although we don't know what it actually is, similar substances have been described previously.
"In records dating back to the 14th Century it's known variously as star jelly, astral jelly or astromyxin.
"In folklore it is said to be deposited in the wake of meteor showers."