Fireballs

An Arlington Minnesota couple discovered a strange rock in one of their corn fields.

Source: KSTP TV Twin Cities


---
PAP
Fri, 21 Jun 2013 06:11 UTC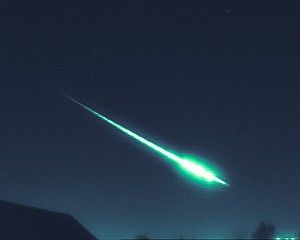 A huge fireball as bright as a Quarter Moon crossed the sky over Poland just before midnight on Thursday, reports the Polish Fireball Network (PKiM). It was seen as a falling green ball with a red tail, as reported by a witness from the town of Piaseczno, near Warsaw.
At 23.55 pm local time, Thomas Lewandowski, a member of the PKiM, saw a huge fireball that swept low over the horizon and ended with spectacular flashes. It was seen in the northwest part of the sky when observed from a location near Warsaw.
This observation was quickly confirmed by Paul Zareba who runs a Polish Fireball Network station equipped with four cameras. One of the cameras recorded the phenomenon in all its glory.
The fireball was also picked up on radio waves. Stayed tuned for more information.
---
Lauren Leamanczyk
CBS Boston
Fri, 14 Jun 2013 22:29 UTC
Amesbury - Phil Green wasn't quite sure what he had, when he noticed the unusual rock on the banks of the Merrimack River.
His yard backs up to the river and he was on one of his frequent walks, looking for arrowheads. The tide was low, leaving behind exposed mud and smooth granite. And then he noticed something that just didn't look right.
"There she was just sitting there, sticking up like that, and I said heck what is this," recalls as he holds a large greenish colored rock. "It just didn't belong."
The rock was covered in mud when Phil found it. It was hard to see the burn marks on the side. At first he thought it was a rock used to make arrowheads. Then he suspected it might be meteorite. He used a metal detector to check and found it wasn't metallic.
---
Residents of Mogappair claimed to have sighted an unidentified flying object (UFO) on Thursday night.

Around 8.55 p.m. on Thursday, V.S. Ragunathan, a bank officer, saw five specks of bright orange light moving from the south to the north in the sky. "The spots appeared in batches of five and disappeared after a few seconds," said Mr. Ragunathan.

His wife and daughter and some of their neighbours too witnessed the spectacle.

"There was no sound at all and the bright object was flying higher than an aeroplane. Some of our neighbours too saw it," said Jayalakshmi, Ragunathan's wife.

According to P. Iyamperumal, executive director, Tamil Nadu Science and Technology Centre, the bright objects could be a result of meteor showers. "But the season for meteor showers is usually in November and December," he said. The air traffic control officials at Chennai Airport said they did not receive any reports of foreign flying objects.
---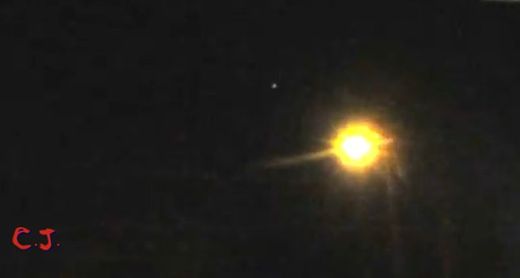 A flaming meteor in the night sky could be seen in Oregon - with reported sightings from Marion to Washington counties - Saturday night.
Note that it's the white orb to the left of the larger light, which is a street light.
OMSI Planetarium Manager Jim Todd told KOIN 6 News the meteor was a combination of a "fireball and space junk."
Todd said the fireball was visible for 7 seconds. He described it as being "a minus 10 on the brightness scale," which according to the International Comet Quarterly is
nearly as bright as the full moon
.
---
Five artillery projectiles exploded at a range near Chapayevsk, the Samara region, at about 7:30 p.m. Moscow time.
Two fire trains were sent to the scene, and Defense Ministry and Emergency Situations Ministry special hardware has also been engaged in dealing with the emergency situation.
Samara regional police spokesman Sergei Goldstein said there were about 13 million rounds of ammunition at the range depot. The range had been cordoned off, and roads leading to it blocked, he said.
Four people have been injured in explosions of projectiles at a range in Chapayevsk, the Samara region, a Samara medical source told
Interfax
.
---
Tim Sherno
KSTP
Tue, 18 Jun 2013 18:29 UTC
An Arlington Minnesota couple discovered a strange rock in one of their corn fields.

Bruce Lilienthal says he was removing rocks when he discovered the large flat object, "It was just party sticking out of the ground. I picked it up and noticed it was a lot heavier than what it looked."

The Lilienthals say they had some time to research the strange stone, and discovered that the object was probably not a stone, but a meteorite instead.

A representative from the University of Minnesota drove out to the farm to verify that the rock is a meteorite.

The expert informed the Lilienthals that there was one found about three miles away from their farm 120 years ago.

There's no way of knowing when the meteorite the Lilienthals found made landfall.

The meteorite weighs in at 33 pounds.
---
Sarah Ramsey/Rachel Kraft
NASA.gov
Tue, 18 Jun 2013 11:58 UTC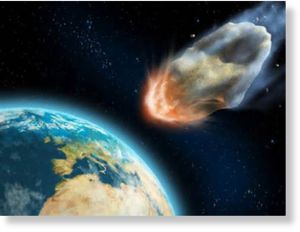 NASA announced Tuesday a Grand Challenge focused on finding all asteroid threats to human populations and knowing what to do about them. The challenge, which was announced at an asteroid initiative industry and partner day at NASA Headquarters in Washington, is a large-scale effort that will use multi-disciplinary collaborations and a variety of partnerships with other government agencies, international partners, industry, academia, and citizen scientists. It complements NASA's recently announced mission to redirect an asteroid and send humans to study it.
"NASA already is working to find asteroids that might be a threat to our planet, and while we have found 95 percent of the large asteroids near the Earth's orbit, we need to find all those that might be a threat to Earth," said NASA Deputy Administrator Lori Garver. "This Grand Challenge is focused on detecting and characterizing asteroids and learning how to deal with potential threats. We will also harness public engagement, open innovation and citizen science to help solve this global problem."
Grand Challenges are ambitious goals on a national or global scale that capture the imagination and demand advances in innovation and breakthroughs in science and technology. They are an important element of President Obama's Strategy for American Innovation.
---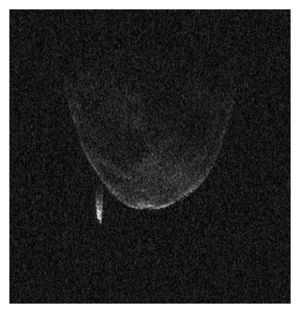 A big asteroid that flew past Earth last month belongs to a new category of space rock, scientists say.
Asteroid 1998 QE2
and its moon sailed within 3.6 million miles (5.8 million kilometers) of Earth on May 31, making their closest approach to our planet for at least the next two centuries. New radar images captured by the Arecibo Observatory in Puerto Rico are revealing just how unique this binary asteroid is, researchers say.
"Asteroid QE2 is dark, red, and primitive - that is, it hasn't been heated or melted as much as other asteroids," Arecibo's Ellen Howell said in a statement. "QE2 is nothing like any asteroid we've visited with a spacecraft, or plan to, or that we have meteorites from. It's an entirely new beast in the menagerie of asteroids near Earth."
The 1000-foot-wide (305 meters) Arecibo dish and NASA's 230-foot (70 m) Deep Space Network antenna in Goldstone, Calif., tracked 1998 QE2 as it approached Earth last month, then kept following the near-Earth
asteroid
as it receded into the depths of space.
The resulting radar images have helped researchers take 1998 QE2's measure. The dark, cratered main asteroid is 1.9 miles (3 km) wide, and it has a 2,500-foot (750 m) moon that orbits it once every 32 hours.
---
Terje Fjeldheim, a geologist who acknowledges that he "knows a bit about rocks," was out fishing in the mountains of Setesdal, southern Norway, when he stumbled upon what's believed to be a meteorite weighing four-and-a-half kilos. That would make it the largest meteorite found in Norway in the last 100 years.
"It was so different that it immediately started ringing some bells," Fjeldheim told Norwegian Broadcasting (NRK) on Friday.
Fjeldheim's discovery has sparked excitement among astrophysicists and Knut Jørgen Røed Ødegaard, Norway's celebrity astronomer and meteorite expert, was "ecstatic," according to Fjeldheim. Rune Selbekk of the Museum of Natural History in Oslo has only seen Fjeldheim's photos so far, but said his "gut feeling" is good.
"I get around 2,000 to 3,000 samples every year," Selbekk told NRK. "When something authentic comes in, it offsets all the disappointments."
The last time a bigger meteorite was found in Norway was in the far northern city of Alta in 1902. Before that, Tysnes in 1884, reported NRK. Only a bit more than a dozen meteorites have been found in Norway, with one of the most recent ones
crashing through the roof of a holiday cabin
in Oslo just last year.
Fjeldheim was due to bring the meteorite in to the museum Friday afternoon and have it evaluated. It may be worth as much as NOK 225,000, should he decide to sell it.
---