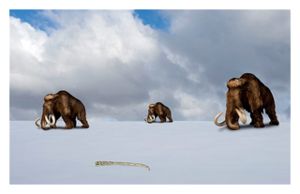 Researchers have found evidence that a large meteorite broke apart in the atmosphere around 12,800 years ago at around the time when mammoths died out.
Studying deposits at 18 archaeological sites around the world they found tiny spheres of carbon they say are characteristic of multiple impacts and mid-air explosions from meteorite fragments.
They claim that millions of tonnes of dust and ash thrown would have been thrown into the atmosphere by the event, which would have choked the atmosphere and altered the global climate.
Their findings cast doubt on claims that it was human hunting that was responsible for the demise of large ice age animals like woolly mammoths, woolly rhinos and sabre toothed tigers.
Many scientists now believe that it was a combination of changes in the climate and pressure from human hunting that led to the mass extinction of many of these species.
However, the cause of the abrupt change in the climate between 12,800 and 11,500 years ago, known as the Younger Dryas by geologists, has been a controversial topic.