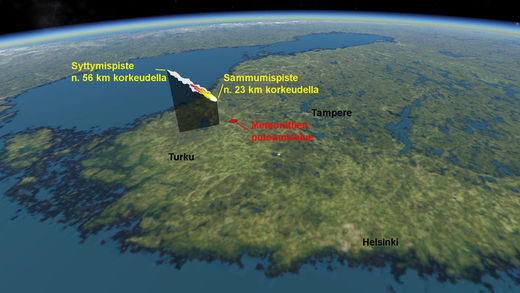 Translated by SOTT.net reader Seppo Ilmarinen
The flight route of the bright fireball that flew over Southern Finland on Wednesday 8th of May has been modelled. Esko Lyytinen, mathematician of URSA astronomical association and member of URSA Finnish Fireball Working Group, estimated that
about 5kg of the fireball ended up on the earth's surface, in the southern part of Huittinen. There were over 300 sightings of the fireball reported in the URSA database.
The exact flight route estimation was based on the meteor camera pictures of URSA Finnish Fireball Working Group. Photographers of the fireball route were Johan Linden in Turku and Aki Taavitsainen in Mikkeli.
The cause of the fireball light phenomena was a meteoroid that passed through the atmosphere. Based on the simulation, the mass of the meteoroid was about 50 kilograms, and it's diameter was about 30 centimeters. It arrived in the atmosphere at a 43 degree angle.
The speed of the object was about 23 kilometers per second when it arrived the atmosphere. It ignited into a glowing fireball near Mynämäki at the height of 60 kilometers, from where it travelled into north-east. After crossing Lake Pyhäjärvi, the fireball flamed out northeast of Säkylä, at an altitude of about 23 kilometers.