Monique Gallegos was inside her Westminster home Thursday when a nearby explosion staggered her. Windows blew out, a ceiling fan was dislodged, crashing into the dining room, and a framed photo or art piece flew off the wall and smashed Gallegos in the back.
"I thought a plane had crashed, or it was a bomb, a terrorist," Gallegos recalled as she waited Thursday afternoon to get the OK to return to her home in the 9200 block of Ingalls Street.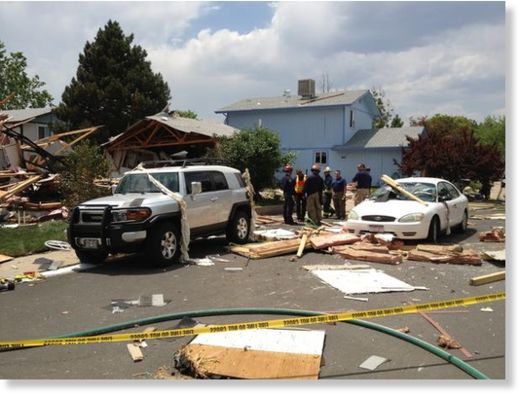 Gallegos quickly got her mother, Arleen Gallegos, 70, out of the house, and along with other neighbors, they watched, stunned, as debris, materials from homes - pieces of rooftop shingles, splintered siding, insulation - continued to land in the street.11:35 a.m. a home on the 9300 block of Ingalls Street exploded, reduced to a pile of rubble and making the cul-de-sac it occupied look like part of a war zone. A second home also sustained heavy damage and several surrounding homes, like Gallegos', were damaged, as well.
Westminster firefighter Courtney VanMarter was among the first on the scene. She encountered a house that had been leveled, with lots of debris and blown out windows. She described the scene as reminiscent of a tornado.
"Truly there is not a whole let left in this house," VanMarter said. "It's quite shocking."
Additional Images