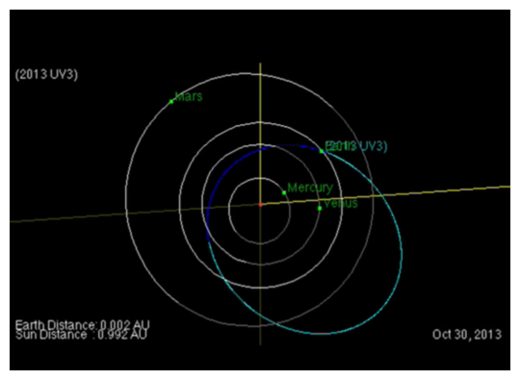 A space rock the size of a tractor-trailer is set to fly harmlessly by Earth today (Oct. 29), zipping between our planet and the moon.
"Small
asteroid
2013 UV3 will safely pass Earth Oct. 29," reads a Twitter post from NASA's Near-Earth Object Program (@AsteroidWatch), based at the agency's Jet Propulsion Laboratory (JPL) in Pasadena, Calif.
The space rock was first observed just a few days ago, on Oct. 25, according to data from JPL. The asteroid's path, illustrated in this
video animation
, (below) will bring it inside the orbit of the moon, which typically circles Earth from a distance of about 239,000 miles (384,600 kilometers).