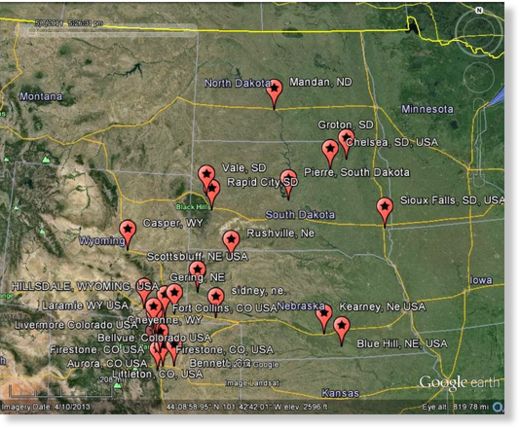 Initial Report
05JUN/2014 Matt Bellvue, CO 9:21pm MST 8-10? S to N, Facing East, R to L white, red hue at peak Brighter than Venus. large trail but no frags observed very flat trajectory. Tried for photo, too quick.
05JUN/2014 Ben Weeks Livermore Colorado USA 21:22 - 9:22 pm MT 3 seconds? east to west I was loking north Huge Fireball falling star, largest I have ever seen by far, maybe ten percent of the size of the full moon relative to my perspective. I am in lnorth east Colorado 30 miles from Wyoming it was north of me traveling east to west Very very bright the size and the distint fireball surrounding were nothing like I have ever seen and I am 50+. I could see the large object (bolide?) and the gren fire swirling around it!The object was actually darker the fireball bright as the moon. I have never seen the swirls of the fireball before or anything this big. No fragmentation Incredible. I will never forget it.
05JUNE2014 Chris Perry Loveland 2224 MT Pm 5-7 seconds right/left northwest right to left northeast pink/blue no sound moon none observed none
05JUN2014 Dane Andersen Sioux Falls, SD, USA 10:00PM (UTC-06:00 15 sec SE-NW facing West Orange sparkling tail, no sound About the same as the moon. Yes, there was a tail. This is my first supposed meteor sighting, so I hope I'm not way off. I was awestruck, so I had to go somewhere to learn more. I haven't seen anything quite like it before, with its particular size, speed, distance, and appearance. Educate me if I'm full of shit!