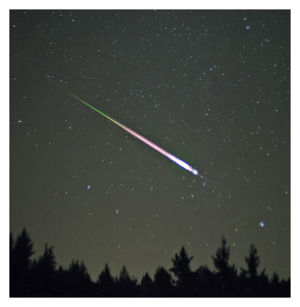 A lightning-like flash in the sky and then a loud bang experienced in Wanganui yesterday morning was likely a bolide.
Arthur Harris of St John's Hill said it was 6.20am when he saw the flash.
"An orange light was in the sky, and then the bomb went off. It was like an explosion."
A similar light was also seen in Christchurch and Dunedin according to reports on weatherwatch.co.nz.
Mark Lee of the Wanganui Astronomical Society said the light was a bolide, the name for a large, brilliant meteor, especially one that explodes.
Mr Lee said they were more common than people thought and could be a meteor, or space junk that had become too hot. "It doesn't explode, it is just disintegrating."
He said material only has to be the size of a refrigerator to be seen and heard.
Source: Wanganui Chronicle