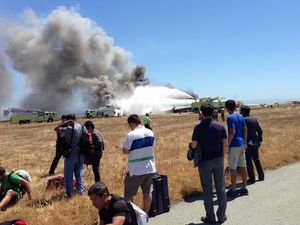 Federal crash investigators revealed Wednesday that the pilot flying Asiana Airlines Flight 214 told them that
he was temporarily blinded by a bright light when 500 feet above the ground.
Deborah Hersman, chairwoman of the National Transportation Safety Board, said it wasn't clear what could have caused the problem. Asked specifically whether it could have been a laser pointed from the ground, Hersman said she couldn't say what caused it.
"We need to understand exactly what that is," Hersman said. "It was a temporary issue."
Her comments came during a daily press briefing on the Saturday crash of Asiana Flight 214 that left two dead and 168 others injured.
Federal crash investigators previously said that pilots recognized they were too low and not lined up precisely with the runway while still 500 feet from the ground. At 500 feet, pilots recognized that they were low as the Boeing 777 was going 134 knots and was 34 seconds from impact. They continued to make adjustments until hitting the seawall at the end of the runway at San Francisco International Airport.
Evacuation of the plane didn't begin immediately. Airlines must certify that they can evacuate fully loaded planes within 90 seconds. But in this case, a pilot told flight attendants not to begin the evacuation immediately when the plane came to rest.
But after about 90 seconds, a flight attendant near the second door reported seeing fire outside a window in the middle of the plane. He relayed that information to the cockpit and the evacuation began.