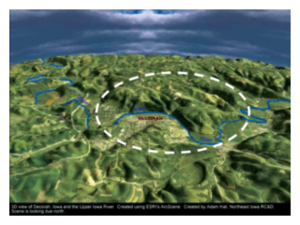 An airborne geophysical survey mapping mineral resources in the Midwest has confirmed that a 470-million-year-old impact crater nearly five times the size of Barringer (Meteor) Crater in Arizona lies buried several hundred meters beneath the town of Decorah, Iowa.
The crater's existence was first hypothesized in 2008 when geologists examining cuttings from water wells drilled near the town were surprised to find evidence of a previously unknown shale deposit. When geologist Robert McKay from the
Iowa Geological Survey
investigated further, he found something even more surprising: The shale deposit was nearly a perfect circle, roughly 5.5 kilometers across. Further analysis of sub-shale breccias by Bevan French, a geologist at the Smithsonian's
National Museum of Natural History
, revealed shocked quartz - a telltale sign of an impact. Together, the evidence added up to an exciting possibility: the existence of a previously unknown impact crater in the Midwest.
Earlier this year, more evidence accumulated when scientists at the
U.S. Geological Survey
(USGS) and the
Iowa
and
Minnesota Geological Surveys
conducted a high-resolution geophysical survey of the region to assess water resources and mineral resources. They were specifically mapping the
Northeast Iowa Igneous Intrusive complex
, which lies in the
Midcontinent Rift System
that formed about 1.1 billion years ago, and may contain valuable copper, nickel and platinum group metal resources.