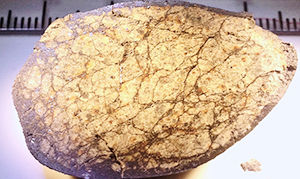 Consumer video cameras and advanced laboratory techniques gave scientists an unprecedented opportunity to study the meteor that exploded over Chelyabinsk, Russia, in February. The explosion was equivalent to about 600 thousand tonnes of TNT, 150 times bigger than the 2012 Sutter's Mill meteorite in California.
"If humanity does not want to go the way of the dinosaurs, we need to study an event like this in detail," says Qing-zhu Yin, professor in the department of earth and planetary sciences at University of California, Davis.
Saying it was a "wake-up call," Yin says the Chelyabinsk meteorite, the largest strike since the Tunguska event of 1908, belongs to the most common type of meteorite, an "ordinary chondrite." If a catastrophic meteorite strike were to occur in the future, it would most likely be an object of this type.
"Our goal was to understand all circumstances that resulted in the damaging shock wave that sent over 1,200 people to hospitals in the Chelyabinsk blast area that day," says Peter Jenniskens, meteor astronomer at SETI Institute.
Their findings are published in the journal Science.
Based on viewing angles from videos of the fireball, researchers calculated that the meteoroid entered Earth's atmosphere at just over 19 kilometres per second, slightly faster than had previously been reported.