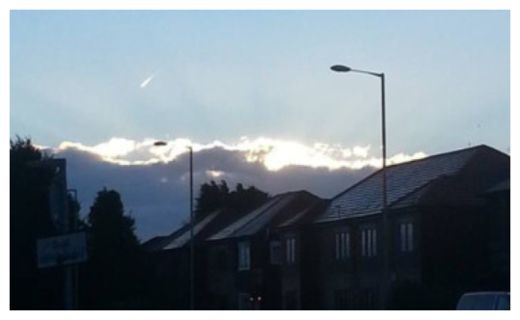 An extra-terrestrial flash of light was snapped shooting across the Dundee sky.
The image, taken by city woman Alison Hepburn, shows an object burning through the skies over Glenconnor Drive. The 26-year-old science student said she did a double-take when she noticed an exceptionally bright light overhead.
She said: "It was just after 9am. It was the light I noticed - it was really, really bright. You know when you glance at something and then you glance back again? At first I thought it was an aeroplane, but I realised it couldn't have been. I took pictures and in the space of two minutes it was gone."
The Alloway Terrace resident added: "I wondered if it might be what's left of the comet that broke up recently."
But Dundee Astronomical Society secretary David Paterson said it was more likely to be a meteor - fire-hot dust and rocks tearing through space.