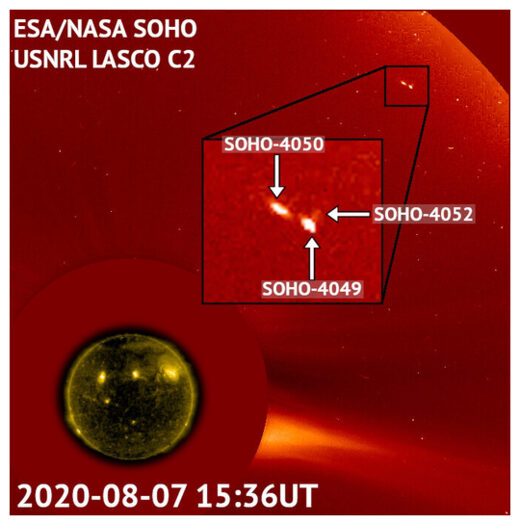 First appearances can be deceiving, and one of the latest comet discoveries by SOHO is the perfect example of that!
SOHO is no stranger to discovering new comets - via the NASA-funded
Sungrazer Project
, the observatory has discovered over 4,000 previously unknown comets since launch in 1995. Most of SOHO's comet discoveries can be categorized into families, or groups, the most famous being the "Kreutz" sungrazer group which accounts for over 85% of the Project discoveries. Only around 4% -some 175 comets- do not appear to belong to any known group or comet family.
However, these are often among the most interesting comets and this most recent discovery -SOHO's 4,049th comet- was no exception!
The comet was first spotted on August 5th, 2020, by amateur astronomer Worachate Boonplod. At discovery, it was just a tiny faint smudge near the edge of the C3 coronagraph images recorded SOHO's
Large Angle Spectrometric Coronagraph (LASCO)
instrument. As it neared the Sun over the next day or so, the smudge became increasingly elongated, ultimately hinting that it may be two comets pretending to be one!
This was confirmed as the comets entered the narrower field of view of the LASCO C2 camera, where the improved resolution confirmed that not only was this more than one comet,
it was actually THREE comets!
The two main components are easy to spot, with the third a very faint, diffuse fragment following alongside the leading piece.